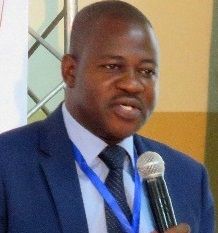 Raphaël Tshimanga Muamba, PhD
Director of the CRREBaC
Word of the Director
Water is transcendental and complex, and has shaped the rise of cultures and civilisations across the world. Over time, human being have learned to live with and to master water for multiple uses. These uses span from initiation rituals of life stages to agriculture, domestic consumption, energy production, fishing, industry, recreation, transportation, etc. Coping with water scarcity, controlling its excess, improving its quality and taking advantage of its availability; these are the great challenges of time that human being have had to face.
The needs for water resources management and development in the Congo Basin are enormous. The demands for water are not only expected from the nine riparian countries of the Congo Basin, but also from other water scarce regions across Africa. The strategic challenge for the future is therefore to ensure adequate quantity and quality of water to meet the growing needs among competitive agricultural, commercial, domestic, environmental and industrial uses.
Bien que nous soyons, en une certaine mesure, conscients de la menace qui pèse sur l'eau dans le Bassin du Congo, et par conséquent sur la vie, fort est de constater que les efforts appropriés pour y faire face demeurent encore disparates. L'un des défis majeurs à ces efforts est l'absence de connaissance adéquate sur la dynamique de l'eau, sa distribution dans le temps et l'espace, les interactions dont elle fait l'objet ainsi que la façon dont nos efforts devraient être coordonnés pour minimiser les dégâts et assurer sa durabilité. Ceci nécessite, par conséquent, des actions concertées et orientées vers la recherche innovante et le renforcement des capacités afin de promouvoir une utilisation harmonieuse et efficiente de la ressource eau du Bassin du Congo.
Face aux difficultés historiques de mettre en œuvre un programme efficace de recherche sur les ressources en eau du Bassin du Congo, il est dès lors impérieux de concevoir un mécanisme pour répondre à ce besoin. C'est dans ce contexte que le Centre de Recherche en Ressources en Eau du Bassin du Congo «CRREBaC» a été créé.
Ce centre de recherche arrive donc à point, c'est-à-dire au moment où les pays riverains du Bassin du Congo sont confrontés aux problèmes de manque d'information pour élaborer une stratégie de gestion durable des ressources en eau et trouver une solution appropriée aux différentes sollicitations de transfert de l'eau dont ils font l'objet.
Vous découvrirez à travers ce site le Centre de Recherche en Ressources en Eau du Bassin du Congo «CRREBaC», qui se veut un cadre de collaboration, conscientisation et mobilisation en vue d'assurer la promotion et la préservation des ressources en eau du Bassin du Congo; ce, par la recherche, le partage de l'information, la gestion de connaissance et le renforcement des capacités.