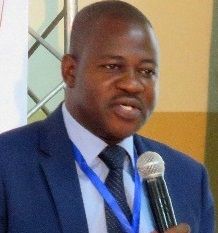 Raphaël Tshimanga Muamba, PhD
Director of the CRREBaC
Word of the Director
Water is transcendental and complex, and has shaped the rise of cultures and civilisations across the world. Over time, human being have learned to live with and to master water for multiple uses. These uses span from initiation rituals of life stages to agriculture, domestic consumption, energy production, fishing, industry, recreation, transportation, etc. Coping with water scarcity, controlling its excess, improving its quality and taking advantage of its availability; these are the great challenges of time that human being have had to face.
The needs for water resources management and development in the Congo Basin are enormous. The demands for water are not only expected from the nine riparian countries of the Congo Basin, but also from other water scarce regions across Africa. The strategic challenge for the future is therefore to ensure adequate quantity and quality of water to meet the growing needs among competitive agricultural, commercial, domestic, environmental and industrial uses.
Although we might be at some level aware of threats to water resources in the Congo Basin, and therefore to life, the appropriate efforts to address these threats remain insufficient. One of the major challenges to these efforts is inadequate knowledge about the dynamics of water resources, their distribution in time and space, the interactions that they are subject to, and also how our efforts should be coordinated to minimise impacts and ensure their sustainability. This requires, therefore, innovative research and concerted capacity building actions to promote harmonious and efficient use of water resources in the Congo Basin.
With regard to the historical difficulties for the implementation of an effective research programme in water resources of the Congo Basin, there is a pressing need to develop and implement a coherent research framework to support strategies for water resources development in the basin. It is in this context that the Congo Basin Water Resources Research Center «CRREBaC» has been created.
CRREBaC comes in at the appointed time when the riparian countries of the Congo Basin are faced with challenges of information to support strategies for sustainable water resources management and provide appropriate solutions to various solicitations of water transfers.
Through this website you will learn about the Congo Basin Water Resources Research Center «CRREBaC», which is intended to be a framework for collaboration, awareness raising and resources mobilisation to ensure the promotion and preservation of water resources in the Congo Basin; and this through research, information sharing, knowledge management and capacity building.